Mental Health and Well-being
We take the well-being of our children, staff and our parents very seriously. If you think you might need a little extra support please contact the school and we can either try and help out directly our put you in touch with someone we hope should be able to help. Please note you might have to paste the e-mail addresses below into your messenger service.
Our Pastoral Manager: Laura.Taylor@william-alvey.lincs.sch.uk
Our Headteacher: head.teacher@william-alvey.lincs.sch.uk
---
Some well-being resources recommended by the LDBE
https://www.lincolndiocesaneducation.com/wellbeing
Professionals, young people and parents/carers can call Lincolnshire Here4You line on 0800 234 6342 for advice and/or self-referral to our children and young people mental health/emotional wellbeing services. The advice line is open 24/7. Further details can be found here: https://www.lpft.nhs.uk/young-people/lincolnshire/contact-us

There's an organisation called Anxiety UK which offers support and information for people who experience anxiety disorders such as panic attacks, phobias, obsessive compulsive disorders, social anxiety and associated depressions. They're open Monday-Friday from 9.30am-5.30pm and you can call on 08444 775 774, text on 07537 416 905 or webchat through their website on www.anxietyuk.org.uk. The email address is: support@anxietyuk.org.uk and you can also go to their website for more information, or for their counselling services.

There's an organisation called No Panic. They offer advice, listening support, resources befriending & referrals for people experiencing anxiety disorders such as phobias, obsessive/compulsive disorders, panic attacks and other related anxiety disorders. Information and support is available for the families and carers of sufferers. They are open everyday from 10am-10pm. You can call on 0300 7729844 or go to www.nopanic.org.uk for more information on them and to access their Live Chat. They also have a Youth Helpline for 13-20 year olds on 0330 606 1174, please check their website for opening hours.

Chill Panda is an NHS app that helps young people to better understand their stress and shows you ways to help them cope and feel better. They have breathing exercises, yoga sessions, exercises and calming games to help you with anxiety. The app is available for download on the Apple app store and Google Play for Android.

One option is an organisation called Kooth, which provides emotional support and online counselling to young people aged 10-19 in England and Wales. Age restrictions can vary depending on the area of the country you are in. They also offer a range of articles and resources, discussion boards and a daily journal space on their website. Their webchat service is open 12-10pm. You can find out more here: https://kooth.com/

The Mix offers webchat and phone counselling. Our counsellors aim to help by listening to your problems and working with you to find ways to cope. Our webchat/phone counselling service operates on a self-referral basis. It is suitable for anyone under 25 who is looking for short-term help with mental health and emotional wellbeing. You can refer yourself to our counselling team here: https://www.themix.org.uk/get-support/speak-to-our-team/the-mix-counselling-service - Our counselling does not use a waiting list system, but new appointments are posted to our website as soon as they become available, so it is worth checking in regularly if you can't see any right now. Your first appointment is likely to take place 2-3 weeks after the point that you self-refer.

There is an organisation called Young Minds which provides expert knowledge to professionals, parents, and young people through the Parents' Helpline, online resources, training and development, outreach work and publications. You can call their helpline at 0808 802 5544 and their operating hours are Monday to Friday 9:30am-4pm. If you would like more information, you can visit their website at www.youngminds.org.uk or send them an email via the website.

There's an organisation called Mind which has a helpline called MindInfoLine. Mind provides information to people in England and Wales about mental health services. They are open Monday-Friday from 9am-6pm and can be contacted on 0300 123 3393. You can email them at info@mind.org.uk or go to www.mind.org.uk for more details. You can also text them on 86463.
---
Our Counsellor, Rachel brought in her therapy dog today 2.2.22
---
Children's Mental Health Week
A super resource for children.
---
The Calming Hand
What is it?
Often shared by mental health professionals, this technique is used to encourage relaxation or slow breathing during a panic attack. The Calming Hand basically uses each finger as a reminder for certain breathing and relaxation prompts.
"Its beautiful simplicity means that even in public and heightened arousal, it's easy to recall and reference," explains Lee Chambers, environmental psychologist and well-being consultant.
How to do it
Forget using fingers for counting. Here, each digit prompts an action that will help calm racing thoughts and help you breathe.
Recognize: "First, hold your thumb, recognize how you are feeling, and accept that you can begin to control your response," Chambers shares.
Sigh out: Next, move to your index finger — you don't have to grip this finger (or any of the others during the next steps), but lightly touching them with your fingertips can help in guiding you through. Breathe in, sigh deeply, and let your upper body flop. Pull yourself up when ready.
Inhale: Continue to the middle finger, where you take a slow inhale.
Exhale: At finger four, enjoy a gentle exhale.
Stretch and relax: Finally, at the little finger, "stretch your hand out, create tension, and release it," Chambers instructs. "Following this, continue to breathe deeply." You can repeat these steps as needed.
How it helps with anxiety and stress:
It may seem simple, but breathing can really influence the body as a whole. "Deep breathing… encourages full oxygen exchange, which can slow our heart rate and stabilize our blood pressure," Chambers explains. Plus, "focusing on the breath helps us disengage from distraction and stressors."
But other aspects of the technique are beneficial, too. "Squeezing your thumb provides a level of comfort and control, and you also stimulate visuals and touch," Chambers notes. "By focusing on numerous senses… we are more likely to move away from what is currently making us stressed."
Sighing also activates hearing and encourages tension to melt away, while concentrating on the hand itself encourages us to remain in the present.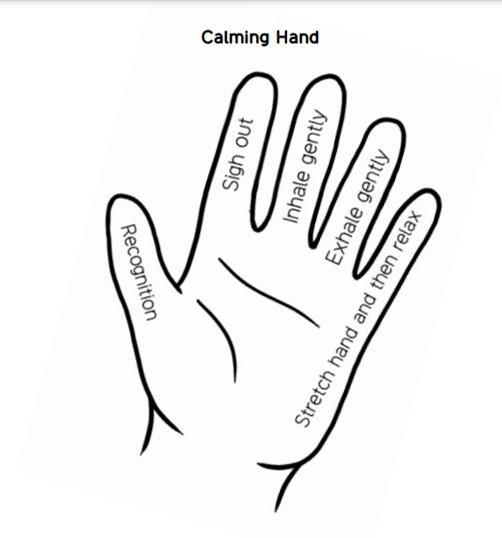 ---
---
MENTAL HEALTH FIRST AIDERS
We have a mental health first aider in school.
Laura.Taylor@william-alvey.lincs.sch.uk
Please note you might need to paste the e-mail address above into your messenger service.
---
HOLIDAY SUPPORT
A message from Jane Impey-TAC
We know that the holidays can be a stressful time for families, and sometimes adult relationships can become strained. Most parents, whether together or apart, find it difficult at times to minimise the impact on children when there are arguments or tense relationships. There are people and resources that can help, and we want all families in Lincolnshire to know about them.
Lincolnshire County Council are working with the National charity OnePlusOne so that parents, carers, and the professionals that work with them can have access to online advice, support and information.
Some of the resources that are available are:
• See it differently – a website designed to help parents recognise the impact of conflict on children and offer advice on how to do things differently.
• 'Just the One?' is for pregnant people and their partners. It helps couples understand why it's important to avoid alcohol during pregnancy, and how they can manage stress in other ways. They will learn coping and communication skills to help them deal with stressful situations, through an engaging mix of videos, animations, and interviews from parents who have experienced similar challenges.
Find out more here - https://www.oneplusone.org.uk/what-we.../digital-resources
The following are short mini courses that you and your partner could access together to help you work through communication difficulties, these can all be accessed easily yourselves by clicking on this link - http://lincolnshire.opo.org.uk you will need to register on the site to use it but its totally free once you've done this. If you feel you need some help to work through any of these courses, any professional you have a trusting relationship with could help you.
• Me, You and Baby Too – Helping new and expectant parents cope with changes to their relationship when they become parents, and learn how to cope with stress and conflict constructively.
• Arguing better – raising awareness of the impact that parental conflict can have on children, and helping parents develop better ways of managing stress and arguments.
• Getting it Right for Children - supporting separated or separating parents and helping them to avoid the harmful situation of their children getting caught up in the middle of their conflict.
---
Staff Well-being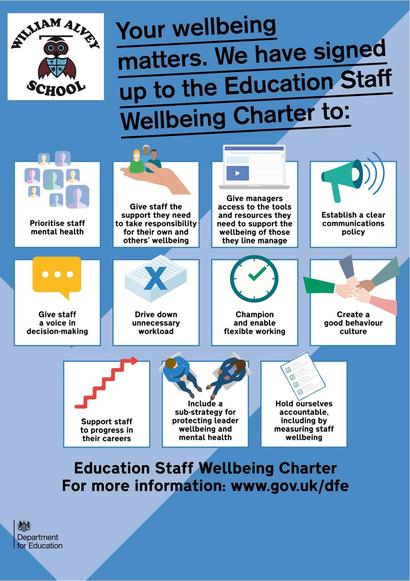 ---
Mental Health Support from the NHS
These are some services available to support adults and children struggling with mental health.
Adults: https://lpft.nhs.uk/our-services/adults
Children: https://lpft.nhs.uk/.../lin.../young-people/i-need-more-help
General: https://lpft.nhs.uk/.../health-and-wellbeing-resources
---
Some other useful sites:
---
NHS Recommended Sleep Times
Babies 4 to 12 months old
12 to 16 hours including naps
Toddlers 1 to 2 years old
11 to 14 hours including naps
Children 3 to 5 years old
10 to 13 hours including naps
Children 6 to 12 years old
Teenagers 13 to 18 years old
---
PARENTING SMART
Place2Be's new parenting tool Parenting Smart. https://parentingsmart.place2be.org.uk
It offers free practical advice for parents on managing children's behaviour and supporting their mental health across different topics and scenarios.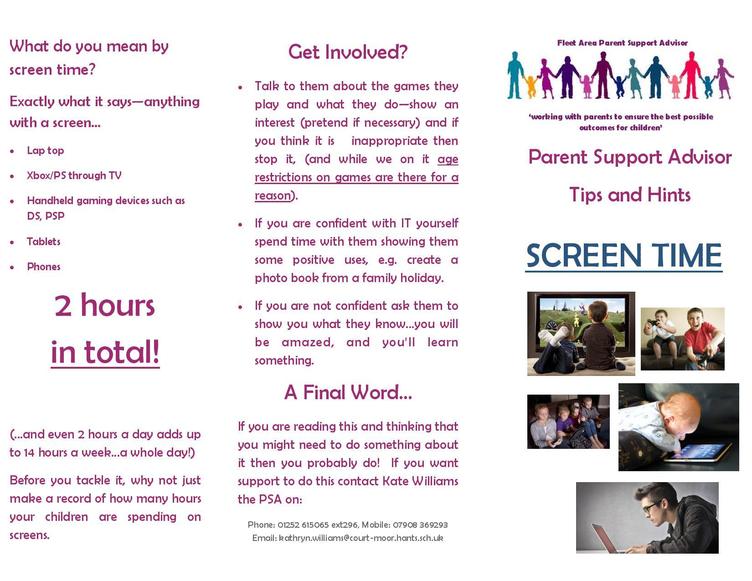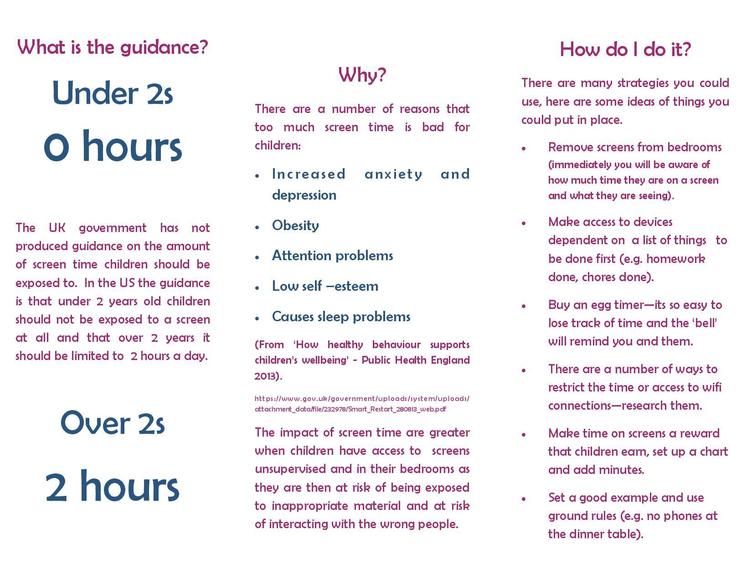 ---
The Samaritans can help
From going on a walk with a friend to being thankful for the small things, there are many things you can try to stay hopeful during difficult times.
---
Child Bereavement UK